Regular price
$30.20
Sale price
$26.10
Unit price
per
Sale
Sold out
AVALON® Polyamine Hair & Scalp Gummies, made with Millet Extract, is a vegan hair and scalp care supplement designed to boost hair and scalp health. 
This all-In-one, tasty gummy is scientifically tested to promote healthy hair follicles, promote hair growth and volume, support healthy scalp and improve hair texture. Formulated for daily use, our gummies are sugar-free, contain just 15 calories per gummy, cruelty free, allergen free and non-GMO.
Share
Benefits

Promotes healthy hair follicles
Promotes hair growth & volume
Supports healthy scalp
Improves hair texture
Ingredients

Wheat Germ Extract, Horsetail Extract, Millet Extract, Vitamin B5, Vitamin B6, Vitamin B12, Biotin, Folic Acid and Zinc.
Clinical Studies

A spermidine-based nutritional supplement prolongs the anagen phase of hair follicles in humans: a randomized, placebo-controlled, double-blind study.Rinaldi F, Marzani B, Pinto D, Ramot Y. Dermatol Pract Concept. 2017 Oct 31;7(4):17-21. doi: 10.5826/dpc.0704a05.
Miliacin encapsulated by polar lipids stimulates cell proliferation in hair bulb and improves telogen effluvium in womenKeophiphath M, Courbière C, Manzato L, Lamour I, Gaillard E. J Cosmet Dermatol. 2020 Feb;19(2):485-493. doi: 10.1111/jocd.12998.
Spermidine promotes human hair growth and is a novel modulator of human epithelial stem cell functions.Ramot Y, Tiede S, Bíró T, Abu Bakar MH, Sugawara K, Philpott MP, Harrison W, Pietilä M, Paus R. PLoS One. 2011;6(7):e22564. doi: 10.1371/journal.pone.0022564.
Direction of Use

Consume 2 gummies daily. Do not exceed 4 gummies per day.
Storage & Precaution

Keep in a dry and cool place. Avoid direct sunlight.

If you are nursing, pregnant, or with a medical condition, consult your health care practitioner prior to using this product.
View full details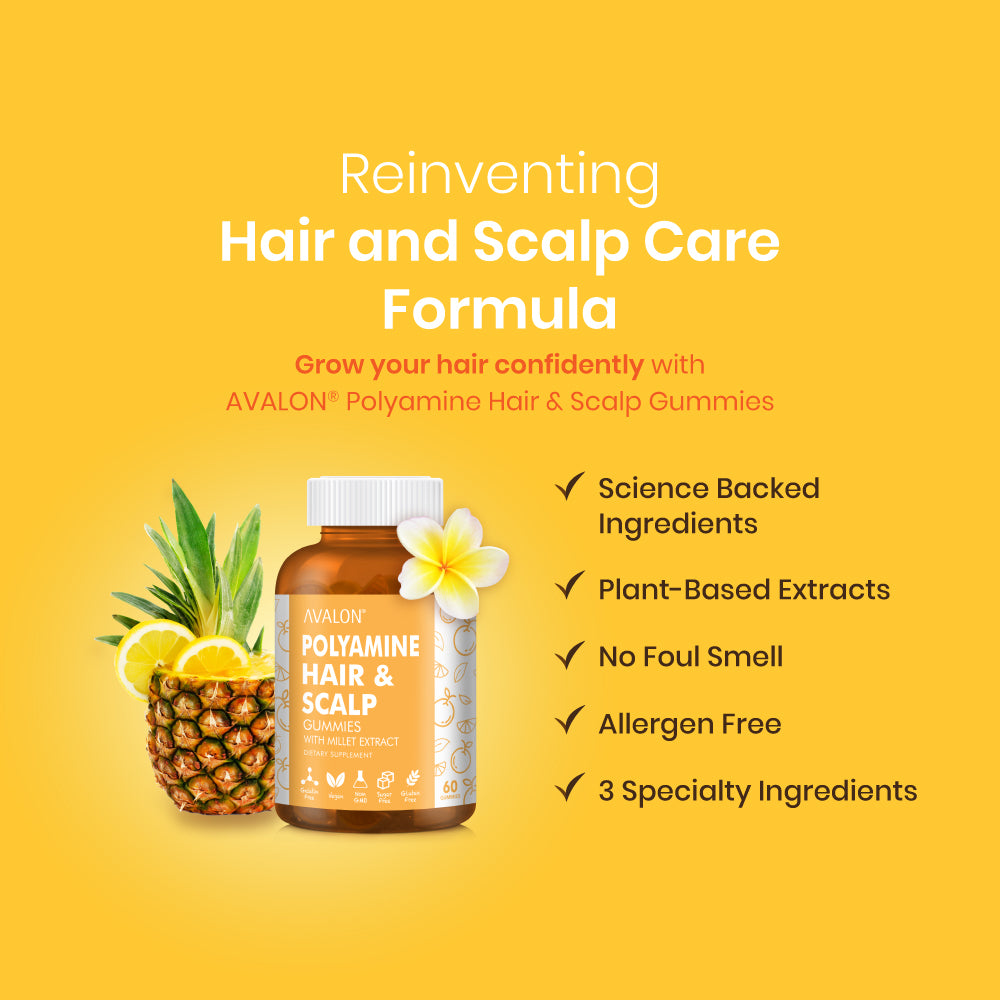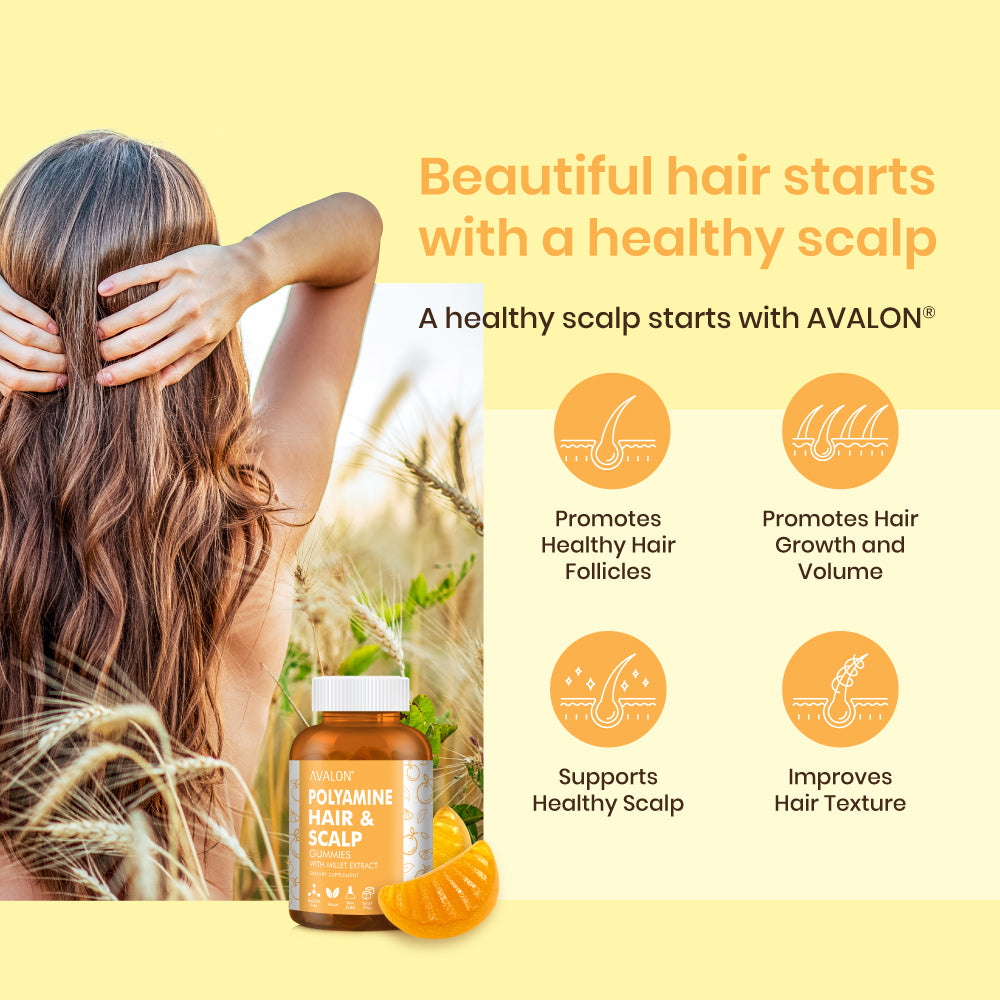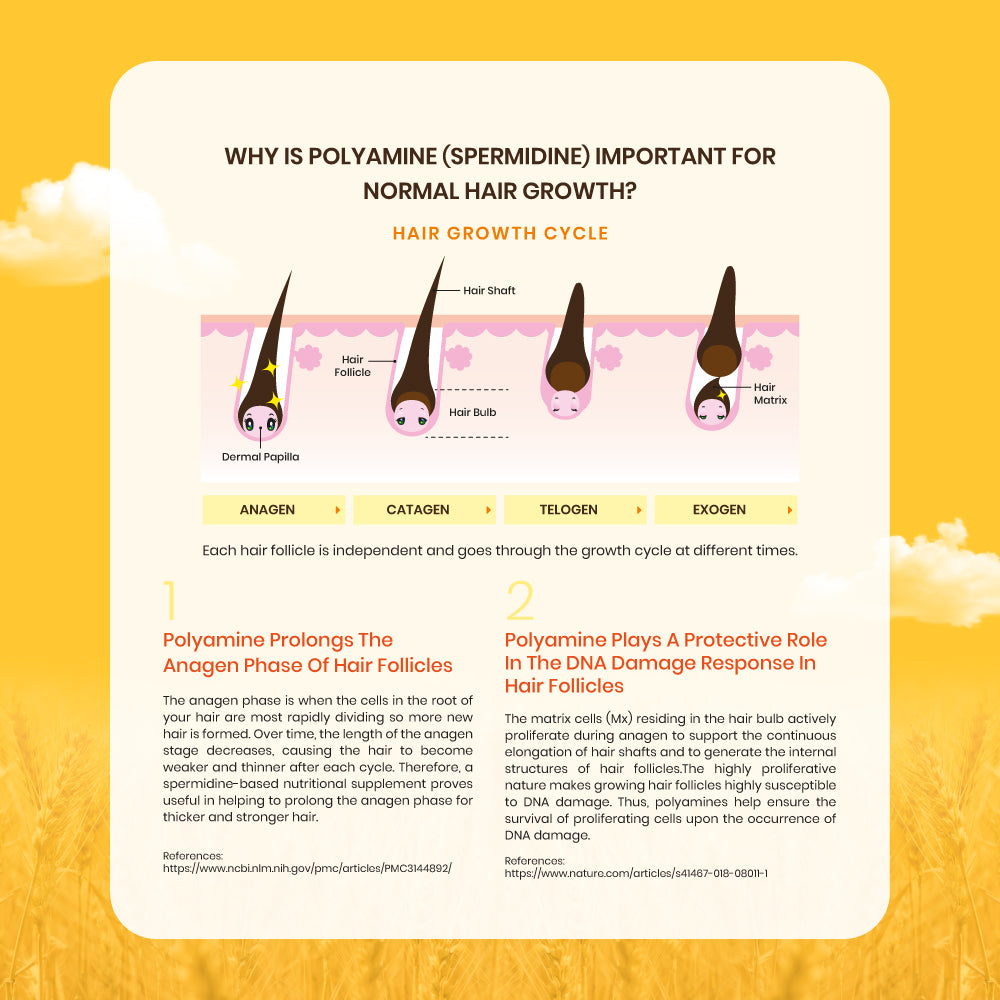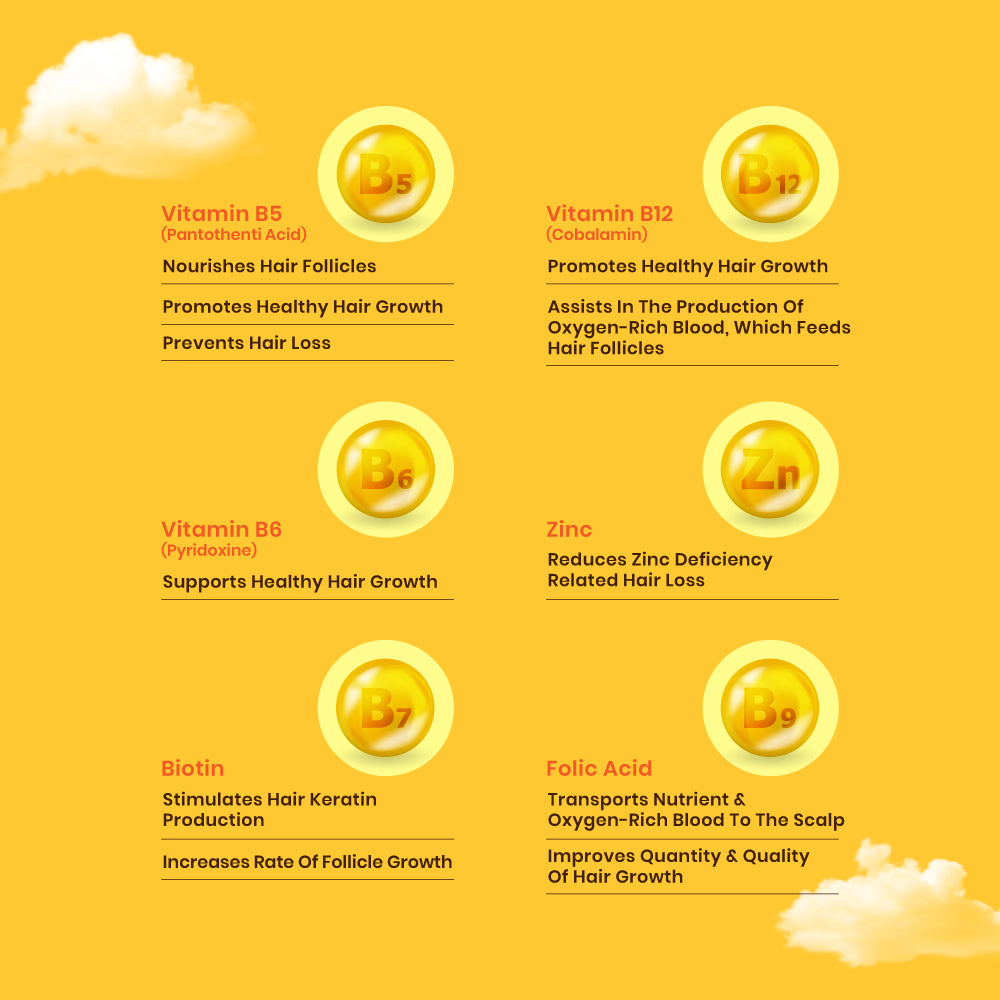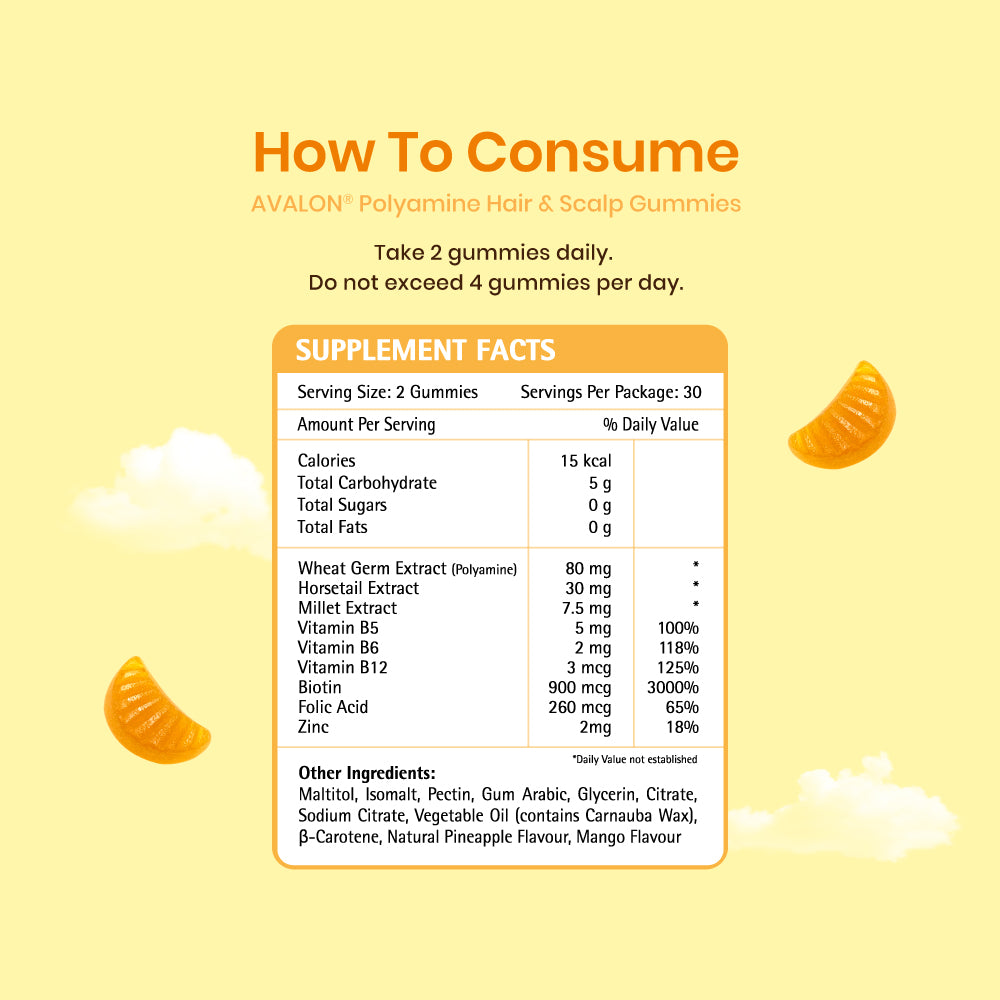 Your No.1 Clinically Proven
Hair and Scalp Care Formula
Sugar-Free
Vegan Friendly
Cruelty Free
Holistic Formula
Reinventing
Hair and Scalp Care Formula
Grow your hair confidently with AVALON® Polyamine Hair & Scalp Gummies
Science Backed Ingredients
Why is Polyamine (Spermidine) Important For Normal Hair Growth?
Hair Growth Cycle
Each hair follicle is independent and goes through the growth cycle at different times.
1
Polyamine Prolongs The Anagen Phase of Hair Follicles
The anagen phase is when the cells in the root of your hair are most rapidly dividing so more new hair is formed. Over time, the length of the anagen stage decreases, causing the hair to become weaker and thinner after each cycle. Studies have shown that polyamine spermidine can prolong your anagen phase, which means that the longer you can keep a hair in it's growing phase, the longer the hair grows. So instead of shedding the average 80 to 100 hairs, you could be holding on to around 20 of those hairs a day!
References: https://www.ncbi.nlm.nih.gov/pmc/articles/PMC3144892/
2
Polyamine Plays A Protective Role In The DNA Damage Response In Hair Follicles
The matrix cells (Mx) residing in the hair bulb actively proliferate during anagen to support the continuous elongation of hair shafts and to generate the internal structures of hair follicles.The highly proliferative nature makes growing hair follicles highly susceptible to DNA damage. Thus, polyamines help ensure the survival of proliferating cells upon the occurrence of DNA damage.
References: https://www.nature.com/articles/s41467-018-08011-1
Beautiful hair starts with a healthy scalp.
A healthy scalp starts with AVALON®
Promotes Healthy Hair Follicles
Promotes Hair Growth and Volume
Supports Healthy Scalp
Improves Hair Texture
A Legacy of Brilliance
Developing and Perfecting Supplements Since 2004
Why Choose Us Over Them?
We Are A Science-Backed Hair and Scalp Care Supplement
Polyamine is a scientifically researched and rare ingredient that's currently missing in your hair regimen.
| FEATURES | AVALON® | BRAND  S | BRAND O | BRAND N | BRAND B |
| --- | --- | --- | --- | --- | --- |
| Added Sugar (Per Serving) | 0g | 3g | 2g | 4g | 2g |
| Vegan Formulation | YES | YES | NO | NO | NO |
| No Artificial Colour / Flavour | YES | NO | YES | No | YES |
| No. of Specialty Ingredients | 3 | 1 | 2 | 1 | 0 |
Made From
Vegan Friendly Ingredients
Cruelty free, we guarantee!
We Heard You Like
Deliciously Safe Gummies!
A Love Note to Our Vegan Fam:
Our gummies are one of few in the market that are not made with gelatin! Instead, we use pectin, a plant-based gelatin derived from fruit rinds.
Chew with 0 worries
Our Gummies Do NOT Contain:
Yeast, wheat, milk, eggs, gluten, soy, gelatin, peanuts, shellfish, dairy, agave, salicylates, chemicals, artificial preservatives, artificial colors, artificial flavors.
Made with

100% Love
Trust Our Sources
AVALON® Gummies are products of Singapore with locally and globally sourced ingredients!
Quality In Every Bite:
Our raw material supplies adhere to strict international quality standards like GMP, BRC and ISO.
Our products undergo stringent tests for purity, stability, quality and quantity of the ingredients.
How To Consume
AVALON® Polyamine Hair & Scalp Gummies
Take 2 gummies daily.
Do not exceed 4 gummies per day.
The Gummy Experiences
Mix and match

with our other Gummies
to meet your beauty needs!
Glowing Beauty Set
AVALON® Polyamine Hair & Scalp Gummies + AVALON® Apple Cider Vinegar Gummies
Supports Skin , Nails and Hair Health
Improves Physical Health
Sleeping Beauty Set
AVALON® Polyamine Hair & Scalp Gummies + AVALON® Passion Flower Sleep Gummies
Improves Skin Health
Healthier Physical Appearance
Beauty Queen Set
AVALON® Polyamine Hair & Scalp Gummies + AVALON® Bamboo Collagen Booster Gummies
Boosts Skin, Nails and Hair Health
Maintains Youthfulness
Mega Beauty Set
AVALON® Polyamine Hair & Scalp Gummies + AVALON® Apple Cider Vinegar Gummies + AVALON® Passion Flower Sleep Gummies + AVALON® Bamboo Collagen Booster Gummies
Improves Overall Wellbeing
Healthier Lifestyle
Online
Offline
Check Out

Our Other Gummies